New Construction Paving Services in South Florida
Your new construction project requires high-quality paving work to achieve the fresh look and long-lasting results your business needs. As a top new construction paving company in Palm Beach County and throughout South Florida, The Paving Lady provides exceptional services you can rely on.
The New Construction Paving Process
When you hire us for your new construction project, our experienced team will review and assess your existing surfaces and design a plan that works for your schedule and budget. Our new construction paving process includes:
Excavation. This is the process of digging out the ground where the new pavement will be installed.
Clearing & Grubbing. Clearing is the removal of vegetation, and grubbing is the removal of roots.
Site Demolition. Any existing buildings or structures in the paving area are demolished.
Subgrade & Base Rock Preparation. During this process, the native soil is compacted and a layer of base rock is installed.
Grading & Sloping. This is the process of leveling the surface to allow for proper drainage.
Drainage & Underground Utilities. Storm drains, pipes, electrical conduits, sewers and other underground components are installed at this stage.
Site Concrete Installation. Concrete is poured and formed into its final position.
Asphalt Installation. A top layer of fresh asphalt gives the surface a smooth finish.
Striping & Signage Installation. Painted lines and symbols on your asphalt or concrete provide crucial information for directing traffic and keeping drivers and pedestrians safe.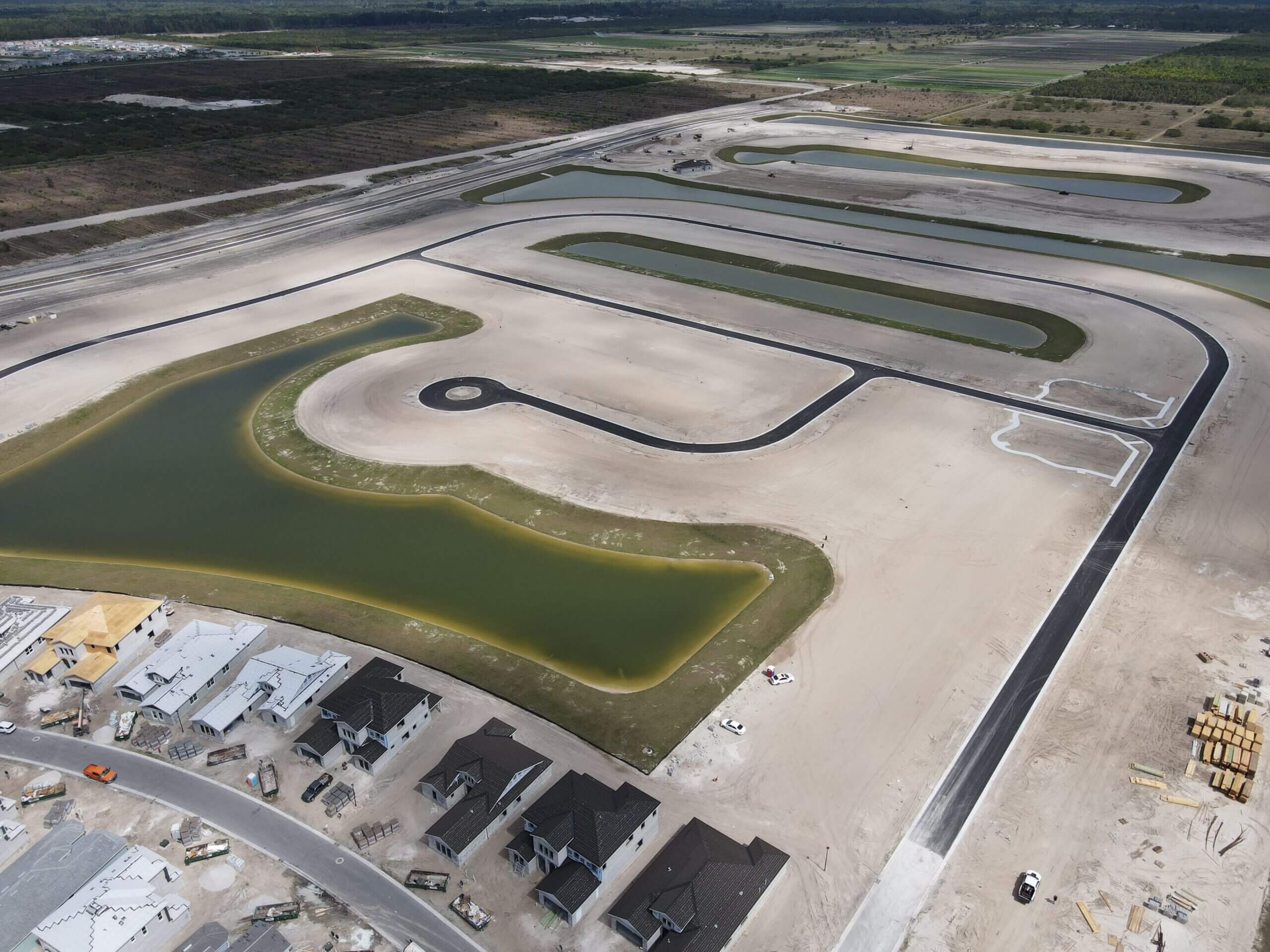 Why Choose The Paving Lady for Your New Construction Project?
For new commercial paving services in Miami, Florida, and the surrounding South Florida areas, The Paving Lady is a top choice. Business owners and property managers choose us for our:
Expertise. With more than 35 years in business, The Paving Lady has earned a reputation as one of the best paving companies in South Florida. We have experience working on new construction projects of all types and sizes, allowing us to tackle your job with ease.
Superior service: When you hire The Paving Lady as your new construction paving contractor in Fort Lauderdale or neighboring towns, you can count on us to perform work on time and within budget with minimal disruption to your business. We take the time to thoroughly understand your needs so we can provide the best results. We also frequently check in with you to answer your questions and ensure you are happy with the project.
Outstanding work. Our expert team uses premium materials, equipment and techniques to handle new construction projects, and they are thoroughly trained and experienced in all aspects of new construction paving. We are also courteous and respectful of your property, taking every precaution to protect your premises during every stage of the paving process.
Contact us today to receive a free, detailed price quote for your new construction paving project. We will outline our plan and associated costs, so there are no surprises down the line.
Count on us to work with you to find high-quality solutions that
save your company time and money.