Concrete Curbing Installation and Repair in South Florida
Concrete curbing is an attractive, durable border solution for your property. If you're looking for concrete curbing companies near you in South Florida, The Paving Lady is a top choice. We provide concrete curb design, installation and repair services to meet all your needs.
Benefits of Commercial Concrete Curbing
There are many benefits to choosing concrete curbing, including:
Improved appearance. Concrete curbing gives your property a clean, professional look that can enhance its curb appeal. We install concrete curbs in a wide range of styles, sizes and colors, so you are sure to find the perfect solution for your unique needs.
Increased safety. Concrete is a strong material that provides a range of functional benefits when used for curbing, such as protecting your landscaping, controlling stormwater runoff and keeping drivers and pedestrians safe as they navigate your property. If your concrete curbs are damaged, we provide essential repairs to eliminate hazardous conditions.
Long life span. Concrete resists weathering, wear and tear, water damage, corrosion and other issues for a long-lasting curb solution. Unlike wood, brick and other curb materials, concrete does not rot or discolor under harsh conditions.
Low maintenance. You can easily remove mud, dirt and debris from concrete by spraying it down with a hose — no special cleaning materials are necessary.
Cost-effective. Concrete is quick to install, requires minimal maintenance and costs less than many other curb materials, making it a budget-friendly option.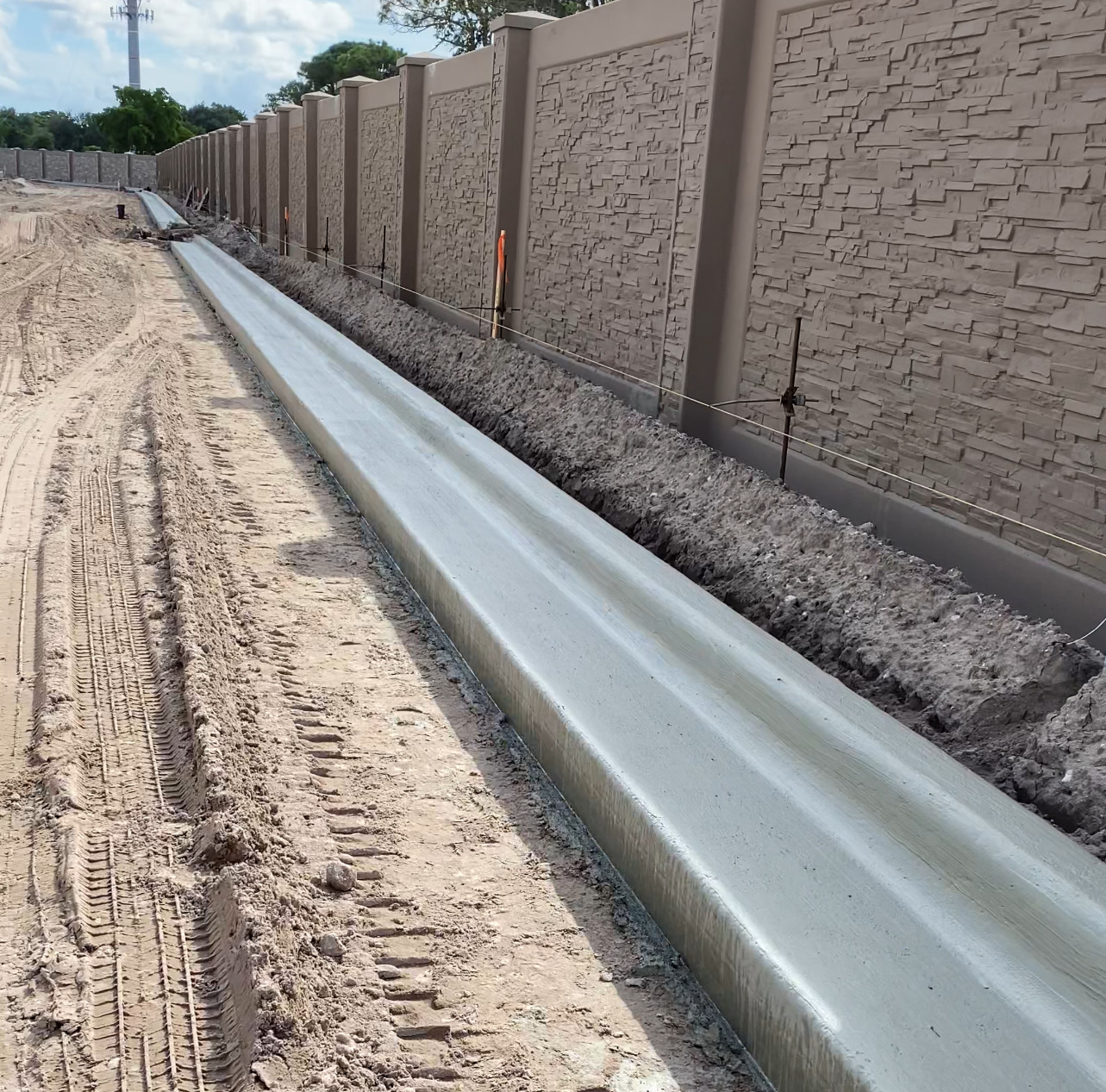 Contact The Paving Lady for Commercial Curbing Services in South Florida
Whether you need damaged curb edges patched or completely new curbs installed, The Paving Lady can help. When you hire us for your commercial concrete curbing project, you can count on:
Experienced professionals. For over 35 years, The Paving Lady has provided exceptional commercial curbing services to clients throughout South Florida. Our expert team is highly trained and experienced with all types of commercial curbing jobs.
Outstanding service. Our goal is to exceed your expectations with our impeccable responsiveness and service. When you reach out to us, we provide a detailed price quote, so you know what to expect before moving forward. We keep you regularly updated once work begins, answering your questions and making any necessary adjustments to ensure the project meets your requirements. When the job is done, we follow up to ensure you are completely satisfied.
High-quality work. We use industry-leading materials and techniques to install and repair your concrete curbing for long-lasting results. We work efficiently and carefully to keep your property protected and leave it looking better than ever. You can rely on us to complete your project on time and within budget so you can get back to business as usual.
If you're interested in our commercial concrete curbing services in South Florida, get in touch with us today for a free quote.
Our friendly, knowledgeable team will work with you to find the solutions that meet your schedule, budget and project specifications.