Catch Basin Repair and Installation in South Florida
The high amount of rain South Florida experiences each year can cause significant water damage to buildings, roadways and other vital structures. Parking lots are especially prone to damage because standing water causes asphalt to deteriorate. This deterioration can be a major liability for property owners and managers, increasing the risk of potential injuries and accidents.
Parking lot catch basins are an essential structure to control the flow of stormwater. If you need to install or repair a catch basin, The Paving Lady can help. We offer installation and repair services to ensure your parking lot drainage system operates reliably.
Why Parking Lot Drainage Systems Are Important
Proper water drainage is crucial to the reliability and longevity of your parking lot. Without drainage structures in place, water can pool on the parking lot surface and cause significant damage. When water settles, it separates the asphalt mixture from the aggregates, causing the asphalt to deteriorate. Aggregate separation happens slowly, so the extent of the damage may not be immediately apparent.
Common problems due to pooling stormwater on asphalt include:
Cracking: Water pressure causes asphalt to crack.
Sinking: Water seeping through cracks can cause your rock base to fail, resulting in a depression in your asphalt.
Rutting: Wheel-shaped ruts or depressions form on areas of deteriorating asphalt that experience high traffic.
Raveling: Water damage can cause the top layer of asphalt to disintegrate.
The catch basin in your parking lot redirects stormwater to prevent these issues. Because catch basins can also degrade or become damaged over time, regular catch basin maintenance is vital to ensure their structural and functional integrity and preserve your parking lot.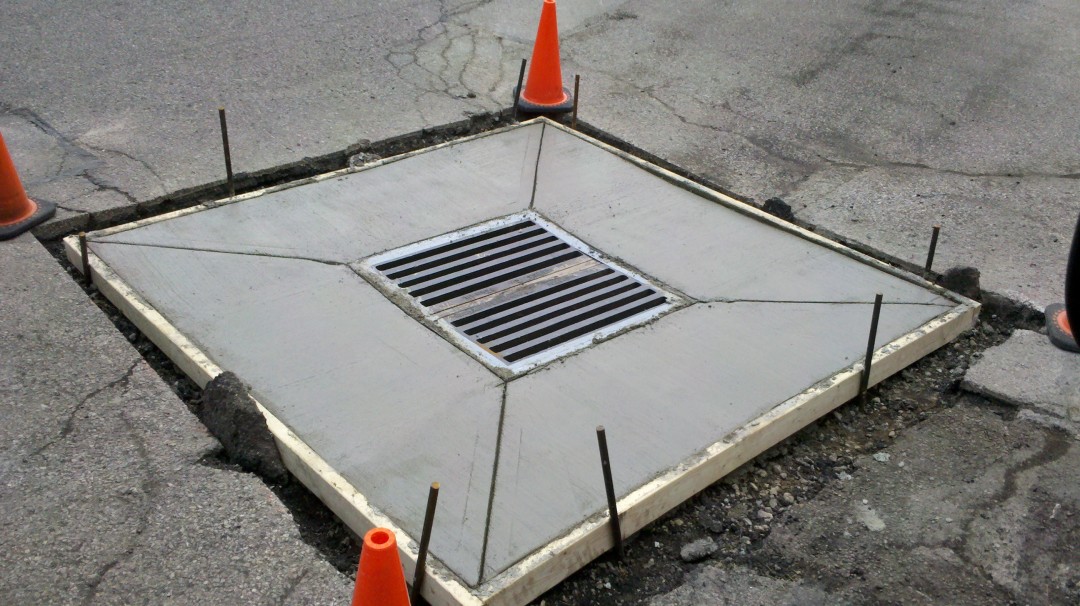 Our Storm Drain Process
At The Paving Lady, our experts have the knowledge and experience to repair or install your catch basin. Our meticulous process begins with on-site visits to see the situation in person. If you already have a catch basin, we perform a thorough system inspection, documenting the interior and exterior elements in need of repair. If the catch basin is for a new build, we evaluate the ground conditions to determine the best design and installation plan.
Next, we present our findings to you in a detailed report, and we meet with you to discuss the best way to address your needs. We review all liability risks, go over your options and provide our recommendations. Once we've reached an agreement, we prepare a contract and begin the work at your convenience. Throughout the process, we remain in constant contact to provide status updates and ensure our work exceeds your expectations.
Why Choose Us for PARKING LOT Drainage Solutions?
With over 35 years of experience providing high-quality drainage solutions in South Florida, The Paving Lady is the area's top choice for catch basin repair and installation services. We have the expertise to solve your drainage problems easily and efficiently, saving you money over the long run.
Contact us today to schedule your evaluation and receive a free quote.