Private Road Paving in South Florida
If you frequently drive on dirt or gravel roads, you're probably familiar with how unpleasant they can be. Unpaved roads can quickly turn into a muddy mess when it rains. In the dry summer months, they can kick up so much dust that you may have trouble seeing out of your windshield.
Unpaved roads are often poorly maintained — if they are maintained at all — leaving your tires vulnerable to sharp rock fragments and other debris in the road that can pop them. It's also nearly impossible to keep your vehicle clean when you regularly drive on unpaved roads.
Of course, drivers aren't the only ones who have to deal with the perils of unpaved roads. Pedestrians and bicyclists who navigate them must take care to avoid potholes and oncoming traffic if the shoulder is narrow.
So, what can you do to combat the ills of an unpaved road? If you're the owner of a private road, you can pave it!
What Are Private Roads?
Private roads are roads or driveways on private property that are not available for public use. Private roads are owned and maintained by an individual, organization or company instead of the government. Common types of private roads include the following:
Roads within housing subdivisions
Residential roads maintained by a homeowner's association, housing cooperative or another group of homeowners
Roads that access industrial facilities such as power stations, mines and forests
What's Involved in Paving a Private Road?
Once you've discussed paving your road with a paving contractor, they'll assess the road's condition to determine the steps necessary to pave it.
If your road is primitive, paving it may involve several steps, including the following:
Mounting the road to give it the proper shape
Grading the road to make it smooth and level
Aggregating the road with soil, limestone or concrete to stabilize it
If your road is already somewhat developed, it may already be a stable base for pavement, allowing you to skip the aggregating skip.
Once the road has been prepared, your contractor will pour and lay the pavement. There are many factors that determine how long it takes to complete a private road paving project — it can take anywhere from three weeks to eight weeks or more, depending on the size and conditions of the road and the weather. A good paving contractor will communicate with you to keep you updated on the status of your project.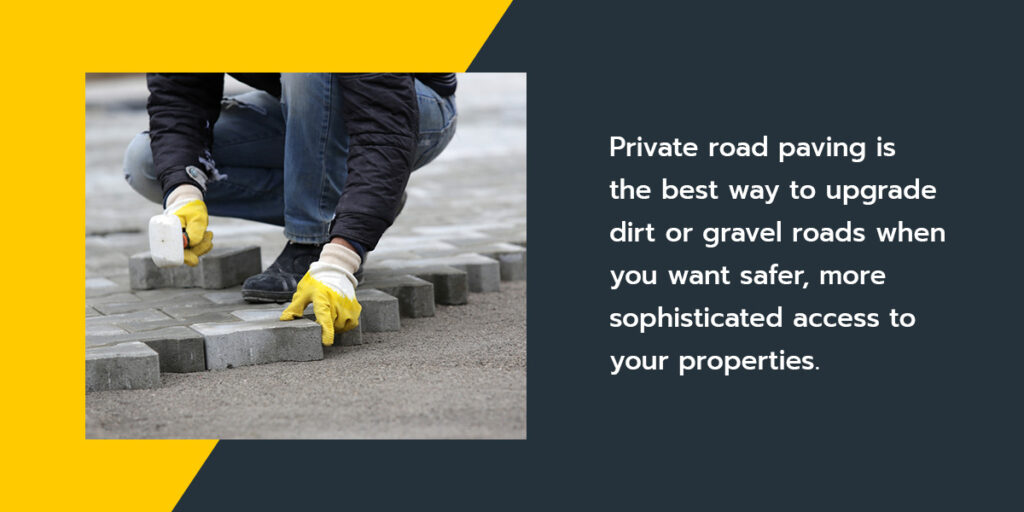 Benefits of Private Road Paving in South Florida
Private road paving is the best way to upgrade dirt or gravel roads when you want safer, more sophisticated access to your properties. If you're considering paving your private road, know that you'll enjoy multiple benefits:
It creates a positive first impression when guests use the road to access your property.
It helps drivers avoid tire damage from the hazards of an unpaved road.
It helps pedestrians and cyclists avoid injuries from potholes.
It increases the property values of homes associated with it.
It satisfies ADA specifications and other legal requirements.
It provides an access point for emergency personnel in the case of a fire, medical event or other urgent matter.
It's a low-maintenance investment that can last up to 20 years, even in adverse weather conditions.
Private Road Paving and Maintenance Services
Private road owners should have their roads professionally maintained. A private road maintenance company will ensure all road components are in good repair, including sidewalks, parking lots and common areas.
The Paving Lady is a full-service, professional paving and maintenance company in South Florida. We perform a wide range of asphalt and concrete services for jobs of all sizes, including private residential roads. Learn more about our asphalt and concrete services below.
Asphalt Services
Asphalt is a sustainable paving material made from a combination of aggregates, filler and binder. Aggregates are mineral pieces such as crushed rock, gravel or sand. Fillers are fine-grained mineral particles added to the aggregate to fill voids in the paving mix and improve the effectiveness of the binder. Binders such as bitumen help hold the aggregate together in a cohesive mixture.
Asphalt paving is a great choice for private roads because it's attractive, durable and affordable.
The experienced asphalt paving team at The Paving Lady uses high-grade asphalt to pave your private road, enhancing your property with a sleek look and results that last. We also repair asphalt imperfections and faulty areas on your existing pavement, providing solutions for cracks, depressions, potholes and other concerns.
Concrete Services
Concrete is a composite material made of sand and gravel bonded together by cement and water. Concrete is another popular paving material known for being strong, versatile, low-maintenance and long-lasting.
The reliable professionals at The Paving Lady install concrete for driveways, sidewalks and many other residential features. We also provide concrete repair services like mending cracks and damage to restore your private drive or walkway.
Why Choose Us
At The Paving Lady, we understand that a properly paved private road must have a solid foundation, adequate drainage and regular maintenance, and you can rely on us to provide all three. When we take on your project, you can trust that our knowledgeable team of professionals will follow all regulations to complete your paving job on schedule.
We're known for the following:
Expertise: The Paving Lady has over 35 years of experience in the paving industry. You can count on our highly trained staff to bring their extensive knowledge to your paving project.
Service: We consider open lines of communication key to a successful project and happy customers. When you partner with The Paving Lady, we'll send you a comprehensive project plan and price quote, so you know what to expect. We'll share frequent updates and answer your questions as we work through your paving project. And, of course, we'll meet with you when the job is complete to ensure you're thrilled with the results.
Results: We use premier equipment and proven techniques in every service we offer. No matter what your paving needs may be, you can trust us to deliver high-quality results.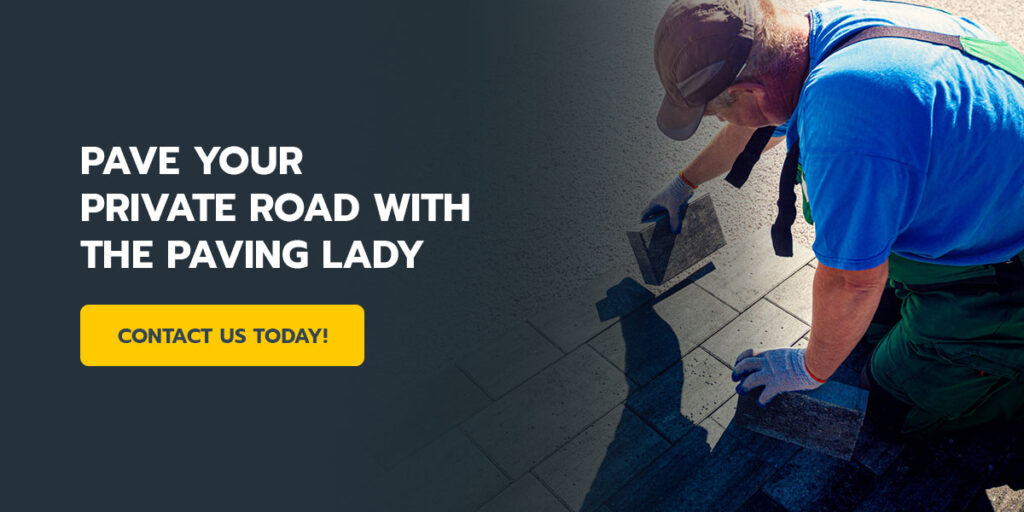 Pave Your Private Road With The Paving Lady
Are you ready to enjoy the use of a smooth, safe road on your property? The Paving Lady can make it happen. With decades of experience and a team of competent staff, we'll transform your dirt or gravel road into the paved drive you've been dreaming of. Contact The Paving Lady today to learn more about our services and to receive a free private road paving quote.