Asphalt Paving Contractor in South Florida
Asphalt is the most common material used to build roadways, parking lots and highways because of its superior durability, smoothness and longevity. If you need asphalt services for your South Florida property, call The Paving Lady. We are a full-service asphalt paving company that works on everything from small residential projects to large public and commercial jobs.
Asphalt Paving Services We Provide
At The Paving Lady, we handle all aspects of asphalt paving and maintenance. Whether you need a simple repair or a new installation, you can count on us as your one-stop shop for all essential asphalt services.
New Asphalt Paving
If you are working on a new build or your property's asphalt is old and worn, choose new asphalt for a clean, professional look. Our asphalt installations meet top industry standards for long-lasting results. We use the highest quality asphalt, and our team of experts lays it carefully, correctly and in accordance with all regulations that apply to your site.
Our meticulous installation process begins with grading and leveling the subgrade to provide a proper foundation. Once the subgrade is prepared, a layer of base rock is installed. This gives your future roadway or parking area the support it needs to last. After the subgrade and base rock are properly compacted, we start laying asphalt. We then use a vibratory roller to compact and smooth the asphalt, which minimizes bumps and blemishes for a sleek finish that makes your property more accessible and attractive.
Asphalt Paving Q&A
Whether you're a commercial business owner or a homeowner, if you need asphalt paving services, you're sure to have some questions. Check out the answers to these eight asphalt paving frequently asked questions.
How Hot Is Asphalt When Paving?
Is Cold Weather OK for Asphalt Paving?
How Long Does Asphalt Paving Last?
How Long After Paving Can You Drive on Asphalt?
What Are the Different Types of Asphalt?
What Are the Different Types of Asphalt Paving Defects?
How Can I Tell High-Quality Asphalt Paving Jobs From Low-Quality Ones?
When Should I Get My Asphalt Resurfaced?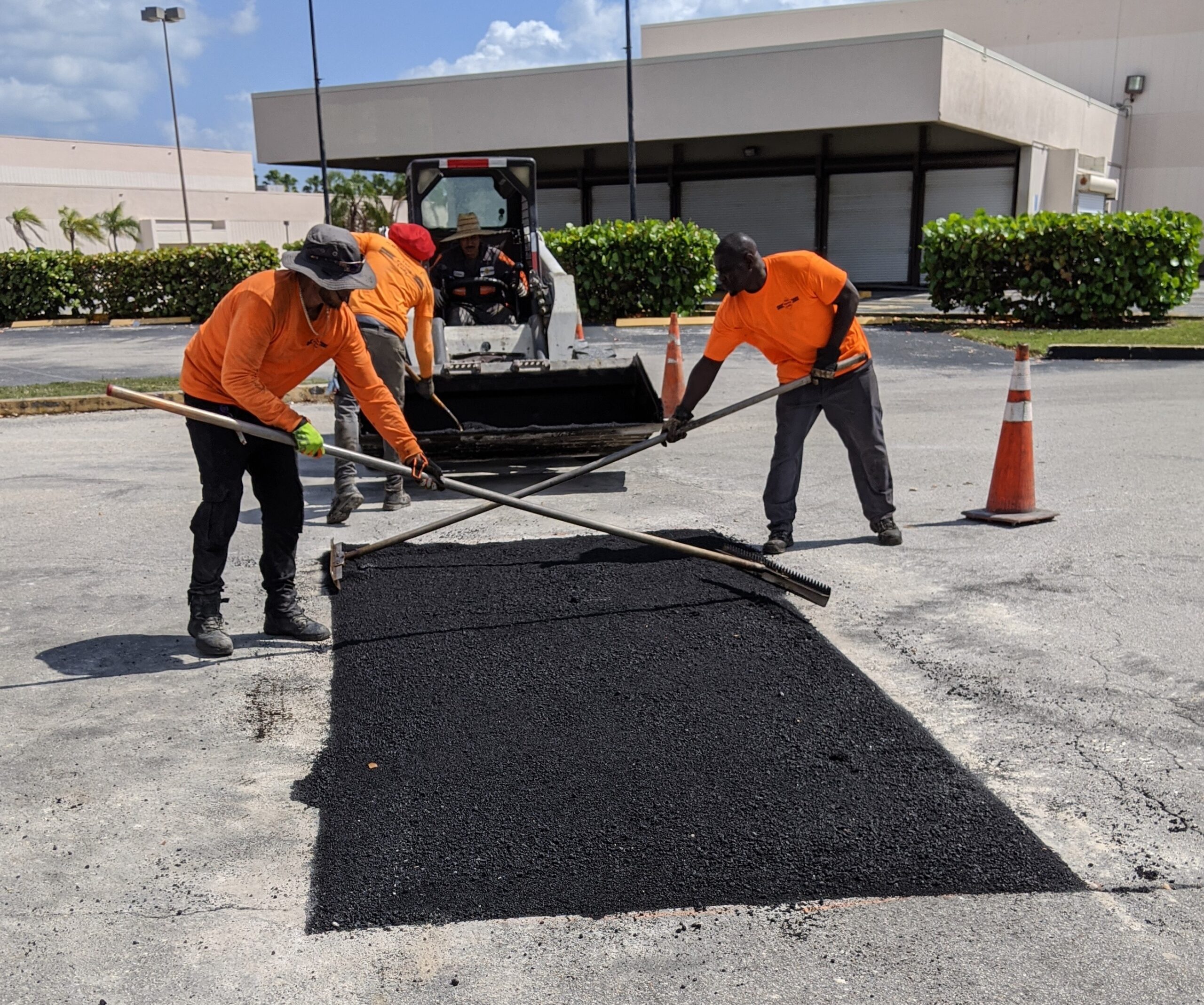 Asphalt Patching and Repair
Asphalt can become damaged from issues like harsh weather, chemical spills, root growth and sun exposure. The sooner you have your asphalt serviced, the better chance you have of avoiding further deterioration and more costly restoration work down the road.
At The Paving Lady, we have decades of experience patching and repairing asphalt. We can restore sections of your asphalt surface to correct any failing areas or blemishes. Whether you have potholes, depressions, cracks or other problems, we have the repair solutions you need.
Asphalt Milling
If you want to remove old layers of asphalt without affecting the foundation, asphalt milling is a cost-effective, time-saving option. Rather than completely renovating the foundation, asphalt milling allows you to improve your site while maintaining existing drainage and slopes for a streamlined paving solution. We use advanced asphalt milling equipment to remove asphalt to a certain depth to have the perfect surface for laying new asphalt.
Asphalt Seal Coating
For maximum protection and preservation, asphalt seal coating is the best solution. Seal coating shields your asphalt against damage from elements like water, oil and UV rays. It also provides a clean black finish with slip-resistant properties for a safer and more attractive surface. Regular seal coating is a great form of preventative maintenance that will extend the life of your asphalt, saving you money over the long term. We use premium seal coating materials that make weathered or aging asphalt look new again, adding curb appeal and value to your property.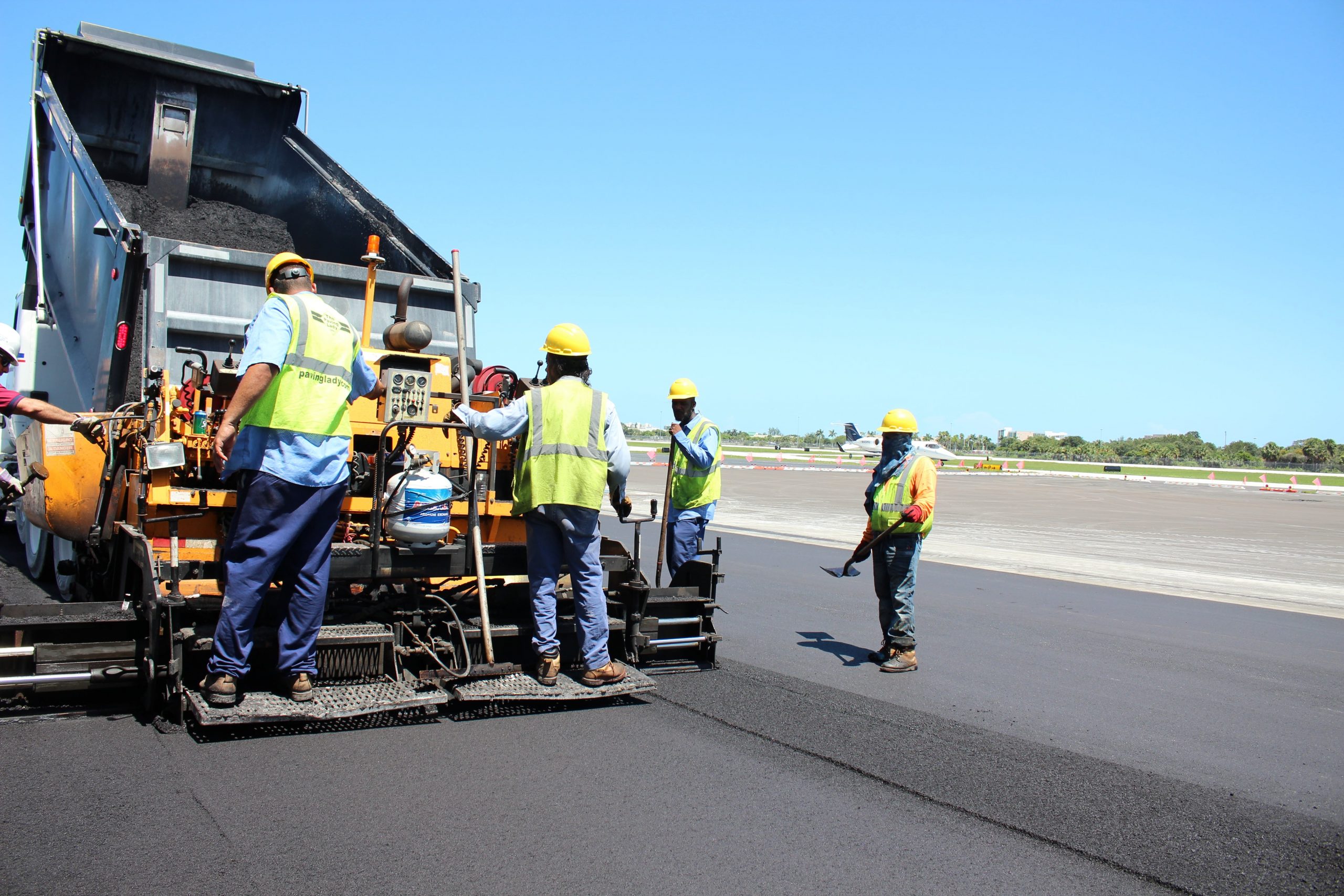 Your Top Asphalt Company in Florida
If you are looking for asphalt contractors in Miami or the surrounding South Florida area, The Paving Lady has the services you need. For over 35 years, we have provided the best asphalt paving solutions for our customers. Our asphalt services improve the look of your property and make surfaces safer to drive and walk on.
Our team of professionals have in-depth knowledge and experience, using all the latest techniques to get the job done with flawless results. We go above and beyond to exceed your expectations with our exceptional responsiveness and reliability. We work with you closely throughout the entire process, detailing our plan and providing a free estimate before work begins. Once we start your project, we keep you regularly updated to ensure all your needs are met.
Get in touch with us to schedule a consultation & find out what makes The Paving Lady the best asphalt company in Florida.
Contact Us for Asphalt Paving Services in South Florida