When to Get Your Asphalt Resurfaced
Asphalt resurfacing is an excellent choice if you're looking to boost your driveway's appearance or fix minor cracks. When you want a middle-of-the-ground surface repair option, getting your asphalt paving resurfaced by The Paving Lady crew can keep your driveway in good condition.
What Does It Mean to Resurface Your Asphalt Driveway?
Resurfacing asphalt is the process of adding a new layer. To start, the workers will need to mill the asphalt, which removes the driveway's top layer. If there is damage, they will take the time to make repairs, such as filling in large cracks. The next step in the process is to even out the surface, followed by applying new asphalt.
When to Get Asphalt Resurfaced?
If you're wondering whether you should resurface or replace your driveway, there are several factors to consider.
Resurfacing will likely be your best choice if:
Your asphalt is under 20 years old.
The cracks are less than a quarter-inch wide and two inches deep.
The driveway's foundation is sound.
Your driveway requires repairs on 30% or less of its surface.
There are also best times of the year to consider as well. If you want to resurface your driveway, you need to wait until warmer months — such as in spring and summer — to resurface your driveway because hot asphalt requires warm air and surface temperatures for appropriate use.
Much of the year is warm in South Florida, allowing you a longer span for resurfacing.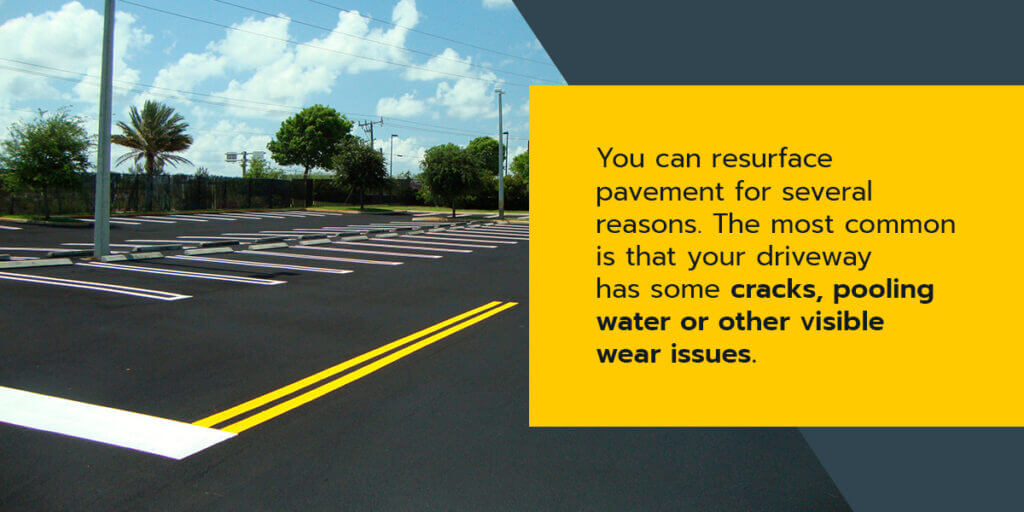 Why Should You Resurface Asphalt Pavement?
You can resurface pavement for several reasons. The most common is that your driveway has some cracks, pooling water or other visible wear issues. These are unpleasant to drive on and could worsen if not taken care of properly. Resurfacing the driveway can remove these blemishes and help to extend the asphalt's life span.
Another reason many choose asphalt resurfacing is to give the driveway an updated look. While a total replacement can achieve the same outcome, it comes at a much higher cost. If extensive repairs are unnecessary, resurfacing is better for boosting curb appeal. Get an even, appealing driveway to enhance your property at a lower price.
What Is the Cost of Resurfacing Your Driveway?
Resurfacing asphalt is often a much more cost-effective option than a complete driveway replacement. If you only have a few issues and are looking for an update or to extend your driveway's life, choose to resurface.
Get Your Driveway Resurfaced by The Paving Lady Today
At The Paving Lady, we have been serving South Florida since 1985, giving us the expertise necessary to resurface asphalt driveways. Extend your driveway's life and protect your investment by choosing asphalt resurfacing when the time is right. We are a full-service company operated by trained experts ready to help you take care of your roadway.
Whether you're running a homeowner's association or a property manager, The Paving Lady can help you enhance your driveways. Please contact us online today or call (561) 567-7182 for a free quote.