It can be easy to overlook the important functions of a parking lot design, but this area is a critical aspect of a building complex or facility. Guests, customers and employees rely on these spaces to enter your property and give a first impression of your business. Proper designs can create attractive and safe spaces that make it easy for people to enter and exit whenever they want to.
Each parking lot should provide efficient, safe vehicle access to parking spaces that serve the facility or organization. Commuter and business lots must consider trucks, buses and similar heavy vehicles when choosing design elements and materials. You may also need to follow certain requirements. Some tips can help ensure your project is space- and cost-effective. Check out our parking lot design manual to find the specifications and requirements you need for a successful and cost-effective project.
General Planning
Your primary consideration for a parking lot layout design is the maximum capacity with the best use of available space. You can optimize your space in several ways. Using rectangular areas, serving two rows of stalls with traffic lanes in both directions, placing parking stalls along the space's perimeter and making the lot's long sides parallel will maximize your parking space. You will also need to consider traffic flow within the lot and at entrances and exits, as well as pedestrian traffic, for convenience and safety. Place accessible parking spaces closest to the facility.
Parking lot size
Determine the size of your lot based on the amount of available land around your business and how many spaces you need. How many cars do you expect at any given time? Do you expect it to see steady or more variable use? For example, an office building car park will need to be sized for employee count, while a shopping mall needs room for customer parking during peak shopping hours.
Paving materials
You'll need to choose what material to use for your pavement. Asphalt is most common for parking lots thanks to its durability and quick setting time. Planning what material you'll use can also help you plan your budget, as some materials cost more than others.
Traffic flow
The flow of traffic into, out of and around the parking lot ensures that vehicles can maneuver the lot effectively. Planning for adequate space ensures vehicles have plenty of room to park and drive through the lot. Additionally, it's beneficial to clearly mark the direction of traffic to reduce confusion.
Safe pedestrian crossingS
Pedestrians should have designated walkways, handicapped spaces and access lanes to ensure safe travel. Lighting illuminates dark areas of the lot and speed bumps help encourage slower driving speeds, making it safer for pedestrians.
Landscaping
Landscaping is an essential feature! Plan for shade, adequate sightlines, visual relief and even holding areas for snow depending on your location.
Drainage
Drainage is another essential aspect of each pavement design. A saturated subgrade below the pavement will lose stability and strength. This can make the pavement structure susceptible to breaking under large loads. Consider subsurface and surface draining, and install drainage materials as early as possible. You'll want to design the pavement to prevent water from collecting at the edge. Additionally, intercept all groundwater from streams, seepage planes and springs.
Many residential streets have designs that follow natural drainage, so you can use this flow to create your residential parking lot design. If drainage is challenging, you may need to increase the pavement thickness and install underdrains. Construct the lot with a cross slope or crown to account for surface water drainage.
Safety
Safety should always be at the forefront of your designs. Pedestrian safety should align with your project goals early in the design process. Lot designers and managers can take the following steps to ensure people are safe on your lot:
Install speed bumps: Traffic calming devices such as speed bumps can slow traffic. This can make people feel more comfortable walking through your lot and increase reaction times.
Post tips: Posting signs with regulations and safety tips can help drivers and pedestrians understand the flow of traffic and the proper moving etiquette.
Create maximum visibility: Keeping aisle and space markings in good shape will increase visibility and minimize accidents.
Ensure sidewalk access: When possible, consider placing parking spaces on the side or at the rear of the lot to create alternative sidewalk access for pedestrians.
Add light sources: You can increase pedestrian safety by adding light sources to the parking lot. Lighting makes the space safer for people walking or driving through in the evening.
Structure
The structure and materials may change due to the subgrade strength and construction approach. Pavement is typically built in phases, beginning with laying the aggregate sub-base and asphalt base layers over the subgrade or laying a base asphalt layer directly over the subgrade. Some projects use an aggregate base on the compacted subgrade, while others need full-depth asphalt. The aggregate base has one or more asphalt layers covering it. You should never have less than 6 inches of an aggregate subbase layer.
Parking Lot Design Considerations
After you've finished your general planning, you'll need to develop your design. The design choices you make will determine the layout.
Under designing a parking lot can lead to excessive maintenance and shorter pavement life. Fundamental design aspects include traffic loading, soil-support capability and material specifications. These elements are crucial to the structure. Giving close attention to these details ensures you get the most from your parking lot.
Traffic refers to the loading on the pavement. You can base traffic predictions on the percentage of trucks and records of traffic volumes at comparable facilities or roads. The effect of large vehicles like trucks on your pavement can be dramatic, so make careful estimates before beginning pavement designs.
Evaluate the strength of the subgrade to ensure it will support construction equipment and traffic loads. Without an adequate pavement thickness, you could cause great stress to the subgrade, which could lead to pavement failure. Different soils can provide various levels of support. For example, sandy soil will better support large loads than clay soil.
Material specifications include pavement thickness. Choosing the right thickness can help maintain a cost-effective project. For example, pavement that is thicker than needed means spending more money on labor and materials that you could allocate to other projects.
Here are a few important aspects to consider.
Pavement Structure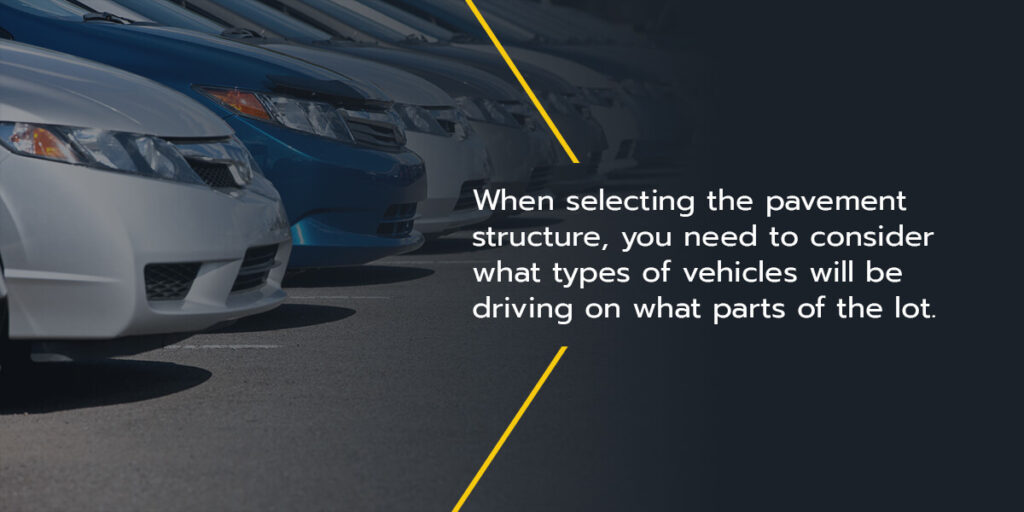 One of the biggest design considerations that can seriously impact the quality of your pavement is the pavement structure and thickness. When selecting the pavement structure, you need to consider what types of vehicles will be driving on what parts of the lot. This is crucial because heavier vehicles can damage pavement that is too thin. Depending on the application, you may need the entire parking lot to be paved thicker or only specific areas of the lot.
For example, heavy trucks may need to access certain areas to reach loading areas or dumpsters. To accommodate these types of needs, be sure to include specific truck lanes in your design where the pavement needs to be thicker.
In addition to accounting for how people will use your parking lot, be sure to also consider the needs of the construction equipment. Construction vehicles will likely be the heaviest vehicles using your parking lot. Depending on the construction process and the sequence of construction phases, you may need to choose a pavement structure that will accommodate heavy construction machinery to prevent damage.
Parking Space Angles
The angle at which your parking spaces are designed can have a significant impact on the traffic flow and how well you can optimize the available space. There are three commonly used parking space angles — 45-degree, 60-degree and 90-degree angles. The best angle for your parking lot layout design will depend on the available space and how the traffic will flow.
Parking spaces at 45-degree angles are often used in tight spaces to allow for optimal space in the aisles. 60-degrees spaces are easy to pull in and out of while still allowing for adequate traffic lane widths. In many cases, 90-degree spaces allow for greater vehicle capacity. However, they tend to be the most difficult to get in and out of, so they're more ideal for all-day parking situations like employee parking lots.
In addition to determining the parking space angles, residential and commercial parking lot design should consider how the placement and location of parking spaces will impact space optimization. For example, using rectangular paved areas will allow you to fit the most spaces. Additionally, making the long edges of the parking area parallel will help you optimize the area. Design the lot so there are parking spaces around the perimeter and traffic lanes serve both perimeter rows and internal rows of spaces.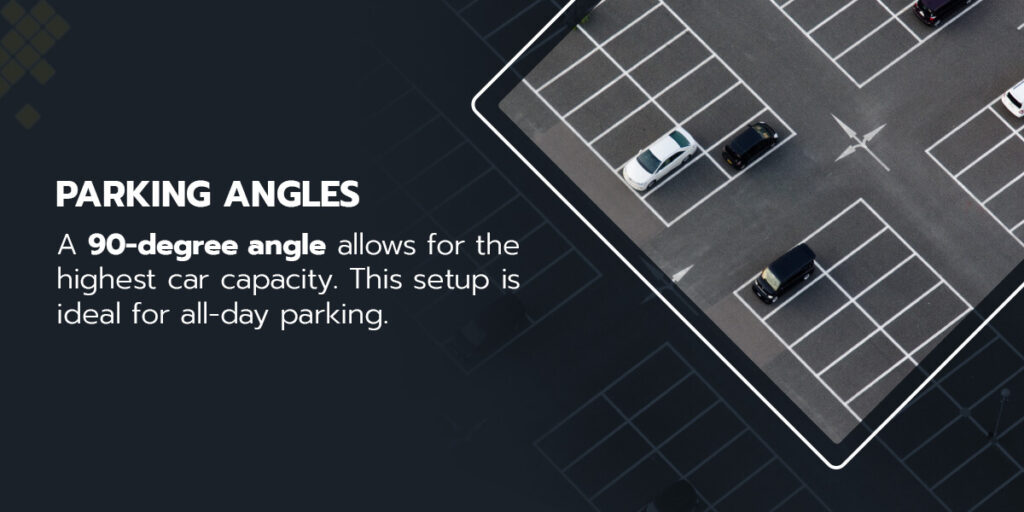 Requirements
Parking lot design standards can vary from township to township. Be sure to check with your local municipality to ensure you're following their specific requirements for the size of your entrances and exits, minimum overhand clearances and more.
The size of your parking spaces and driving lanes will depend, in part, on how the lot is striped. Line striping is an essential part of your design, as it defines traffic flow and parking spots. When you work with a professional paving and striping company they'll ensure your lot meets your state's Department of Transportation (DOT) requirements.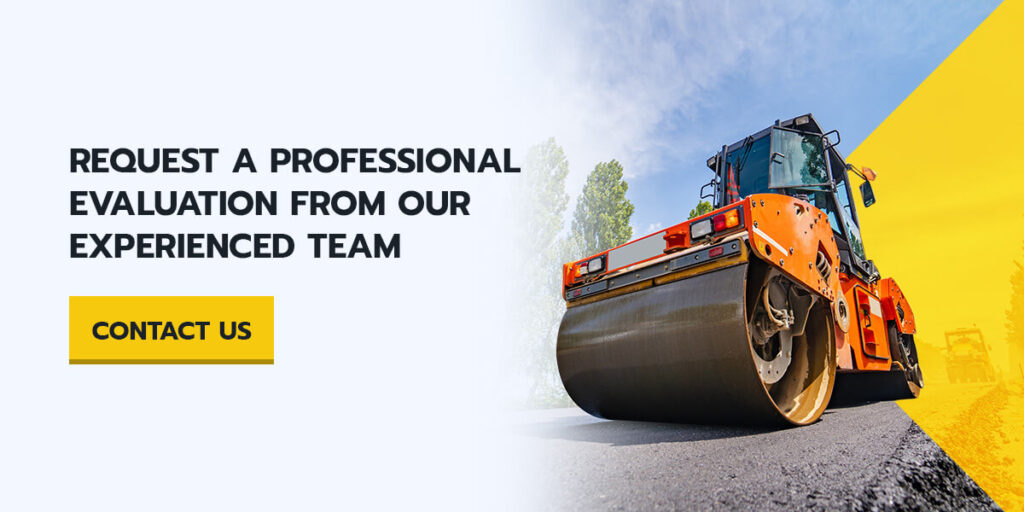 Use The Paving Lady for Your Paving Service Needs
Asphalt pavement is a great material for parking lots of all sizes. Asphalt is smooth and durable, and its longevity makes the investment worth it. From paving and repair to line striping and seal coating, The Paving Lady offers the paving services necessary to make your car parks beautiful and compliant with required standards. Our expert team can help you find the right pavement solutions that fit your needs.
Find out how The Paving Lady can help you with your design, drainage, maintenance and more. Contact us today and get a free quote for our paving services.