Line Striping Services
The Paving Lady offers exceptional line striping services in Miami and the surrounding South Florida region. We provide a wide range of pavement painting services for commercial, public and residential projects of all sizes.
What Is Line Striping?
Line striping work involves painting lines and other symbols on roadways, parking lots, traffic signs and other surfaces. These markings are used to direct moving vehicles, indicate parking areas and help pedestrians cross traffic safely.
Our Pavement Marking Specialties
At The Paving Lady, we use high-quality, Department of Transportation (DOT)-approved paints and advanced equipment to create traffic markings. Our durable, long-lasting paints and exceptional application techniques can withstand harsh weather elements and high volumes of traffic.
Our specialties include:
Pavement and road surface markings – These markings convey important messages to drivers, such as which side of the road to use, where to pass and upcoming road conditions. Yellow lines separate traffic moving in opposite directions, and white lines separate traffic going in the same direction. Arrows and other symbols may also be used on pavement to direct traffic.
Americans with Disabilities Act (ADA)-compliant markings – The Americans with Disabilities Act requires all businesses to have clearly marked handicapped-accessible parking spaces. At The Paving Lady, we have decades of experience paving and striping while following ADA requirements. Reach out to us today to ensure your parking lot is completely ADA-compliant.
Striping parking lines – We can paint lot stripings on your parking lot to organize the flow of traffic and indicate where vehicles should park. We use bright lines, arrows and symbols to create parking spots, point out entrances and exits, mark fire lanes and make other vital designations.
Road sign installations – Road signs are essential to keeping drivers and pedestrians safe. From stop signs and yield signs to do not enter signs, we plan out and install crucial signage on roadways to keep everyone safe.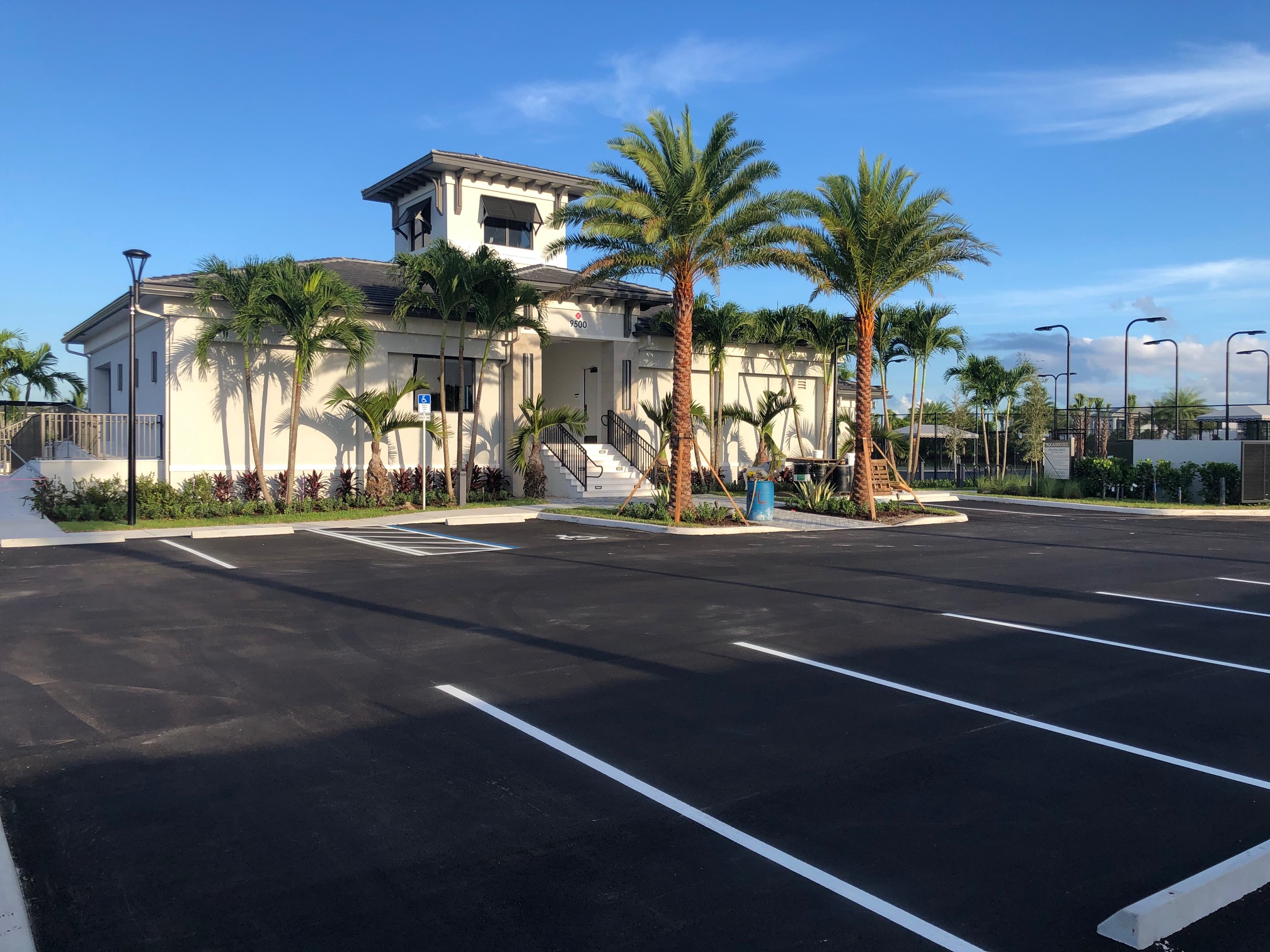 Our Service Areas
If you're looking for an asphalt striping company, The Paving Lady offers parking lot line striping and other pavement services in South Florida counties and regions, including:
What Makes The Paving Lady a Leading Line Striping Contractor in South Florida?
From road line painting to parking lot line striping, The Paving Lady provides many services. When you work with us, you can count on:
Experienced professionals. For over 35 years, The Paving Lady has provided parking lot line striping services to clients throughout South Florida. Our team of experts is highly trained and experienced in all types of line striping projects, allowing them to tackle your job with ease.
Outstanding service: We provide attentive service and excellent communication, so you are fully informed throughout the marking and striping process. You'll receive detailed price quotes, regular work updates and frequent check-ins to ensure you are completely satisfied with your project.
Superior work: We use precise pavement striping techniques and premium equipment to get your job done. We know how important it is for you to get back to business as usual quickly, and we work diligently and carefully to provide the best results.
Get in touch with us today about our line striping services and request a free quote.