Americans With Disabilities Act (ADA) Asphalt Paving in South Florida
The ADA is a law designed to make public buildings and commercial businesses accessible to the approximately 61 million Americans living with a disability. These federal regulations apply to roadways, walkways and ramps, parking lots & spaces and other paved structures.
If you're looking for ADA paving solutions for your South Florida business, The Paving Lady can help. We specialize in asphalt paving services that ensure ADA compliance through the use of ADA guidelines.
FLORIDA ADA PARKING REQUIREMENTS
Your business must provide handicapped-accessible parking, including a certain number of clearly marked handicap-painted parking spots. The exact number of spots you need depends on the total number of parking spaces in your facility. At The Paving Lady, we stay updated on all current ADA regulations and requirements and provide compliant handicap parking lot striping for your property.
You also need to provide ADA-compliant access to your building from your parking lot, which typically requires an accessible route to the building such as a ramp or certain line stripings. Our experts can help you design a solution that meets these specifications, even with challenging layouts.
There must also be handicapped-accessible ramps that accommodate wheelchairs and scooters traveling to and from the parking lot. At The Paving Lady, we can create ramps that navigate seamlessly around cars and overcome any elevation challenges.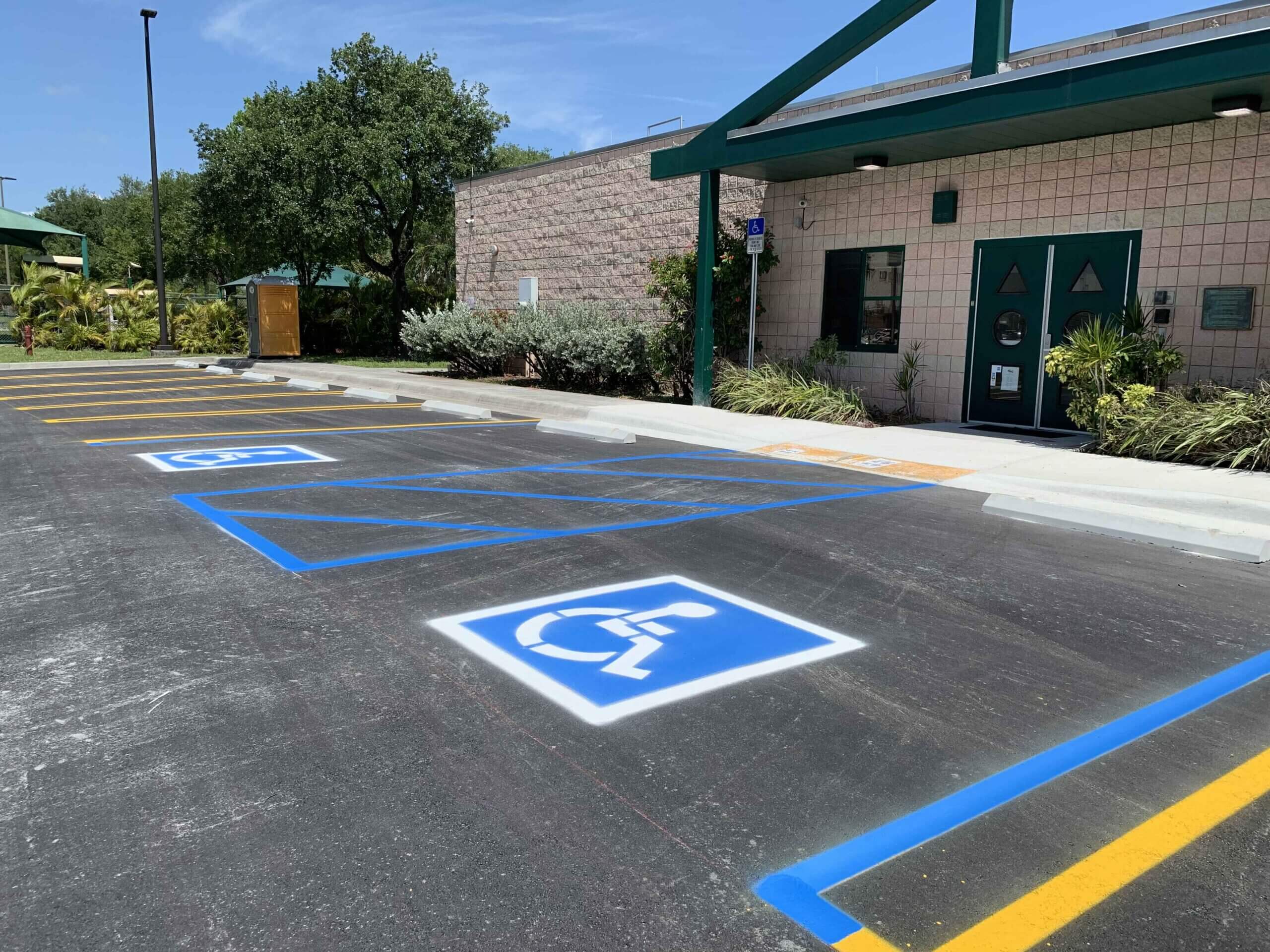 ADA Compliance Projects The Paving Lady Can Help With
Besides parking lots, we can also help you with ADA compliance for:
Sidewalks and walkways
Driveways
Signage, markings, and line stirping
Ramps
Curbs
Garages
What Happens if You Aren't ADA-Compliant in Florida?
ADA standards apply to any privately owned, charitable or nonprofit Florida organization that serves the public or employs 15 or more people. Under ADA regulations, people with disabilities can file federal lawsuits, so you could be sued and fined for noncompliance. The fine amount depends on your violation's severity, but the average cost is approximately $75,000 for your first violation and $150,000 for subsequent violations. 
Contact The Paving Lady for ADA Paving Solutions in South Florida
The best way to ensure your paved surfaces are ADA-compliant is to contact The Paving Lady for expert line striping service. We meticulously inspect your property to ensure all work we perform is accessible to people with disabilities through professional ADA designs.
We use the best ADA-compliant materials and techniques for all our handicapped-accessible striping services in South Florida. Our highly trained team knows the latest regulations and has worked on all types of ADA parking lots.
You can rely on us to help you understand and comply with all ADA standards to avoid any potential lawsuits and fines. We provide detailed price quotes and walk you through our paving plan to eliminate any guesswork about our services. We also update you throughout the process, answering all your questions and providing any additional assistance you may need. When the job is finished, we follow up to ensure you are happy with the project.
Get in touch with us today
to request a free quote for your ADA asphalt paving project in South Florida.