Concrete Paving Services in South Florida
Concrete is a strong, versatile material that provides exceptional longevity and durability, making it a popular paving material. Using it for the outdoor surfaces at your home or business can provide sensible and aesthetic benefits. Whether poured as a driveway for vehicles or a sidewalk for pedestrian use, concrete is a safe, nonskid solution provided by concrete contractors.
At The Paving Lady, we provide professional concrete paving services for homes and businesses throughout South Florida. Our experienced team can help you experience the many benefits of concrete solutions.
We provide a wide range of concrete solutions:
Flatwork
Concrete flatwork is the process of pouring concrete to create flat, horizontal surfaces such as foundations, sidewalks and driveways. Compared to brickwork, flatwork is typically a quicker, more economical process.
Curbing
Concrete curbing is an excellent landscaping solution that creates attractive, durable and safe edges along roads and properties.
Driveways
We provide concrete driveway installation and replacement services to improve the appearance and strength of your driveway. A concrete driveway can withstand the weight of your vehicle, and we can seal it with various color stains to achieve your desired look.
Sidewalks
Whether it's for your home or business, you need a sidewalk that gives visitors a clear footpath. We pour concrete sidewalks in sections connected with expansion joints for a reliable solution in areas with high foot traffic. Talk to our expert today about sidewalk paving!
Slabs
We use concrete slabs for many building features, including garage floors, foundations, patios and other flat surfaces.
Repairs
Besides providing installation and replacement services, we can also mend damaged concrete. We fill cracks, patch your concrete and provide numerous other concrete repair services.
Benefits of Choosing The Paving Lady as Your South Florida Concrete Paving Contractor
Whether you need concrete installation, repair, crack sealing or maintenance services, The Paving Lady can help. Hiring us means you can benefit from our:
Expertise. For over 35 years, we have provided exceptional commercial concrete paving services to our clients. Our highly trained team knows the ins and outs of working with concrete and tackles projects of all types and sizes.
Superior service. We provide a high level of responsiveness and reliability to ensure we meet all your needs. We start by giving you a detailed plan and price quote to eliminate any guesswork. Throughout the entire concrete paving process, we keep you updated and are available to answer all your questions. We follow up with you when work is complete to make sure you are happy with the job.
High-quality work: Our concrete paving company is full of experts who use premium materials and advanced techniques to provide the best results. You can rest assured that your new or repaired concrete will look great and last for many years to come. We also treat your property with the utmost care and ensure it is protected while we work.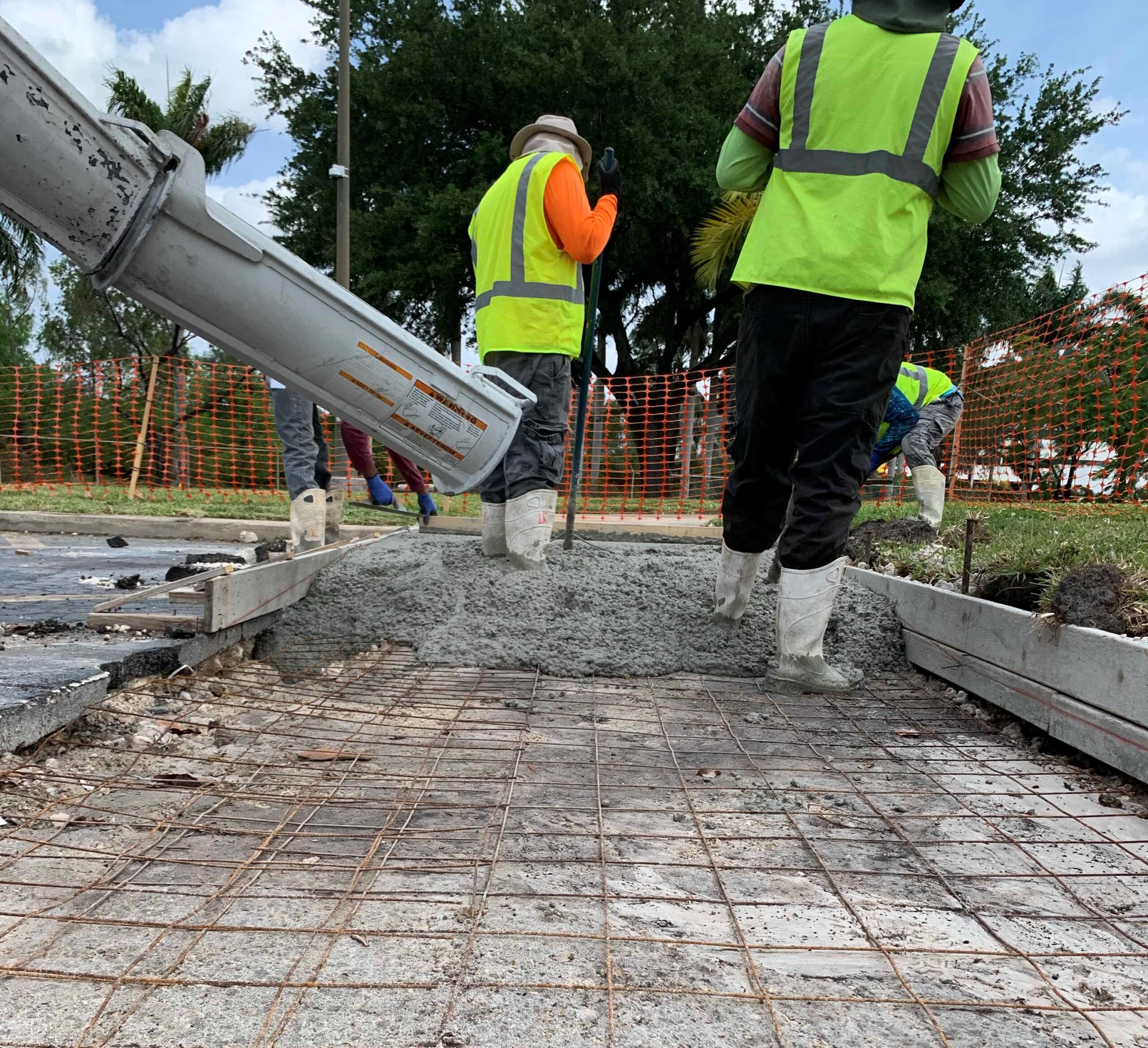 Contact The Paving Lady for Professional Concrete Services
The Paving Lady is a leading concrete paving company in Miami and the surrounding South Florida areas. We provide everything from concrete sidewalks and patios for your home to large concrete parking lots for your business. Whatever your needs, we can help you find the best concrete solutions.
Contact us today or call us at 561-572-2600 to receive a free quote and get started on your next concrete paving project.