Asphalt Paving Repair Services in Southern Florida
The Paving Lady is a leading South Florida asphalt repair company. We fix asphalt roads, driveways, parking lots and other paved surfaces for homes and businesses throughout the region. You can rely on us to restore your asphalt to top condition.
Asphalt Repairs We Specialize In
Asphalt can become damaged by harsh weather conditions, sun exposure, accidents and other external factors. At The Paving Lady, we provide a wide range of asphalt repair services in South Florida to fix any asphalt problem. We are experts in:
Asphalt Patching
If there is a pothole, depression or other type of blemish on your asphalt, it can be patched for a quick and economical solution. Asphalt patch repairs can prevent the problem from worsening and improve the look of your asphalt.
Crack Filling
Cracks in your asphalt can develop into large potholes if neglected, which leads to more significant, costly problems. We fill cracks with high-quality asphalt emulsion that prevents water penetration, improves your asphalt's appearance and extends its life.
Milling
Asphalt milling allows us to restore the surface of your asphalt without affecting the foundation. We use advanced milling equipment to remove old asphalt layers and maintain the existing slopes and drainage systems.
Removal and Replacement
We remove and replace significantly degraded asphalt that requires a large-scale repair. With this long-term solution you can get a more durable & reliable paved surface.
Asphalt Maintenace & Seal Coating
Our premium asphalt seal coating restores the appearance of aged and weathered asphalt with a fresh, black finish. Seal coating also protects and preserves your asphalt, so it will last for many years to come.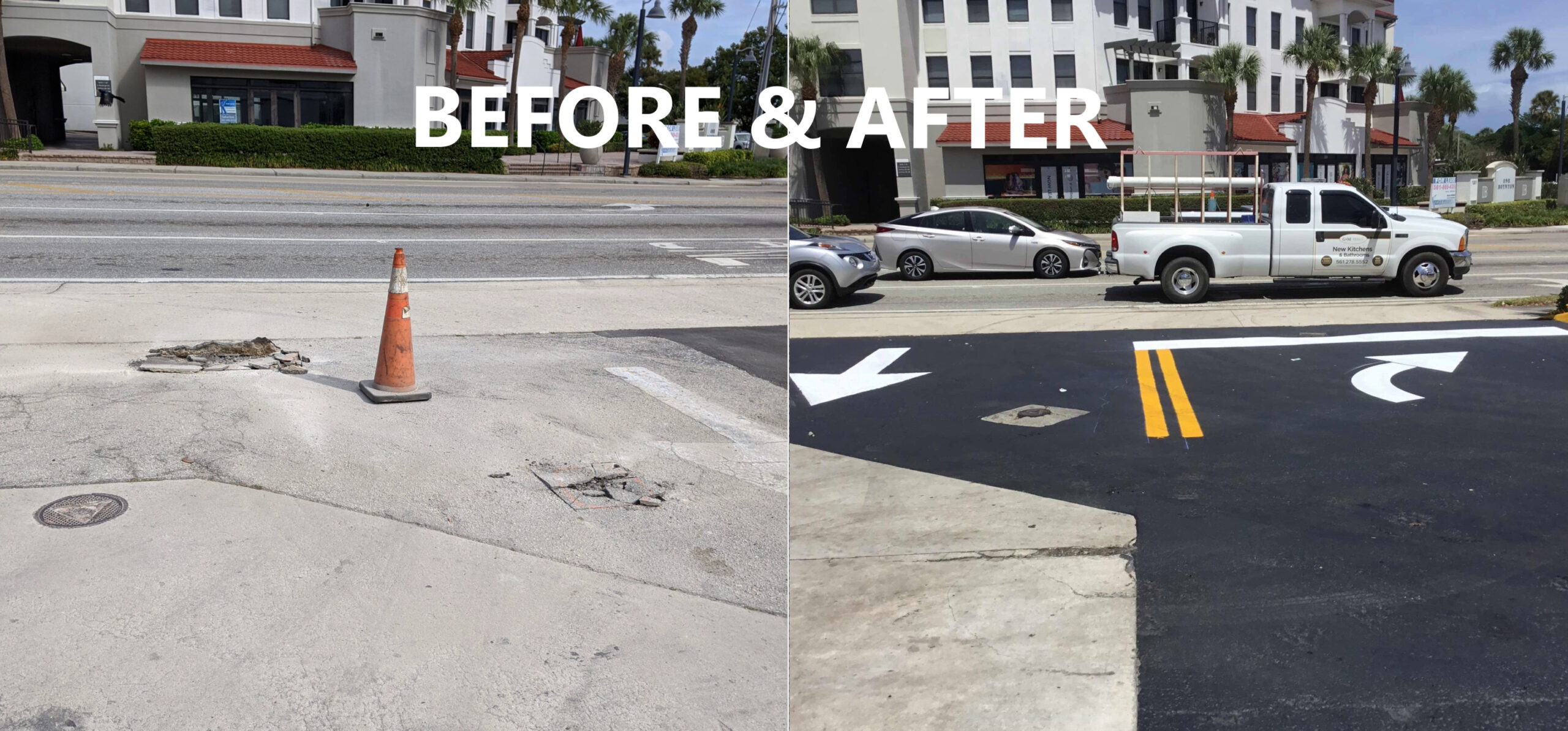 Why Choose Us as Your South Florida Asphalt Repair Contractor?
When you work with The Paving Lady, you can count on:
Experienced professionals. The Paving Lady has served South Florida for over 35 years. Our expert team also has the knowledge and experience to tackle all your repair needs quickly and efficiently.
Excellent communication. We work closely with you from start to finish. We detail our plan and provide a free quote before work begins, so you know what to expect. You'll also receive regular updates from us as we work on your project, and we are always available to answer questions. Once the job is complete, we ensure you are completely satisfied and provide any necessary follow-ups.
High-quality work. We use advanced tools and techniques to repair your asphalt. We work carefully and courteously to protect your property and leave it looking great.
Contact The Paving Lady for Asphalt Repair Services in South Florida
Whether you need asphalt pothole repair or replacement services, trust The Paving Lady. We can provide the best solutions to help improve the look and functionality of your asphalt.
From your home's driveway to your business's parking lot, we tackle every project with the goal of exceeding your expectations with our impeccable service and reliability. Contact us today about your asphalt repair needs, and we will provide a professional evaluation and free quote.