Have you ever driven onto a parking lot and felt an unsettling squish beneath your tires? Or have you noticed the soft indentations where other cars once parked? In the competitive arena of property management, asphalt maintenance is a top priority. When you invest in new asphalt, you want to make sure it has the proper time to dry before use.
What's the Difference Between Asphalt Drying and Curing?
The two words have distinct implications in the world of asphalt construction:
Drying: The asphalt drying process includes the first 48 to 72 hours post-installation. After this time, a new asphalt parking lot is ready for foot traffic and light vehicles.
Curing: Asphalt cure times can take up to 12 months. The curing process fortifies the asphalt, enhancing its resilience and longevity. Asphalt may be somewhat soft and pliable while it's curing, but it's OK to drive on after the initial drying.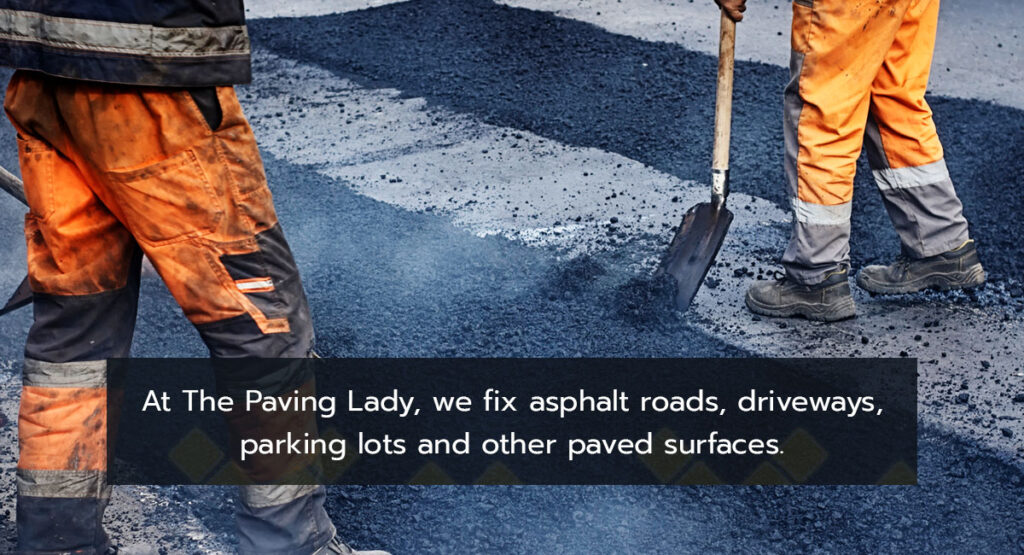 Why Proper Drying and Curing Matter
At The Paving Lady, we fix asphalt roads, driveways, parking lots and other paved surfaces. Properly installed asphalt can endure elements, exposure and other external factors.
We provide a wide range of asphalt repair services, including:
Asphalt patching: Potholes, depressions or other blemishes on your asphalt need patching. Asphalt patches will improve the look and function of your lot.
Crack filling: We fill cracks in asphalt with high-quality emulsion to protect against water and improve your asphalt's appearance and life span.
Milling: Asphalt milling restores surfaces with minimal impact. We use advanced milling equipment to remove old asphalt layers while maintaining the existing slopes and drainage systems.
Removal and replacement: We remove and replace degraded asphalt for a fresh slate. With this long-term solution, you can get a durable, reliable paved surface.
Asphalt maintenance and seal coating: Our premium seal coating revives old asphalt. Seal coating also preserves your asphalt and adds to its longevity.
The Paving Lady uses state-of-the-art tools to lay five different types of asphalt:
Hot: Hot asphalt is most suitable for public roads and commercial and residential premises.
Warm: Warm asphalt is best for roads and paths leading up from entrances.
Cold: Cold asphalt offers a strong, durable patching solution.
Porous: Porous asphalt prevents flooding by letting water seep through stone and soak into soil.
Perpetual: Perpetual asphalt has many layers and is made to last over 50 years.
Why Trust The Paving Lady for Your Asphalt Needs?
We've seen it all and fixed it all. Our commitment to your project surpasses laying down asphalt — we'll work to ensure you get the best results. Here's what makes us stand out:
Experience: Decades in the game have armed us with unparalleled expertise.
Value: We do honest work at honest prices, and we offer transparent fees so you know what to expect.
Quality: We do more than meet standards — we set them.
Credentials: We've worked with a diverse range of satisfied clients, each project a testament to our work ethic.
Reliability: More than contractors, we're your trusted partners.
Get in Touch Today
Every detail matters in property management. Contact The Paving Lady online or call us at 561-567-7182 to get started.