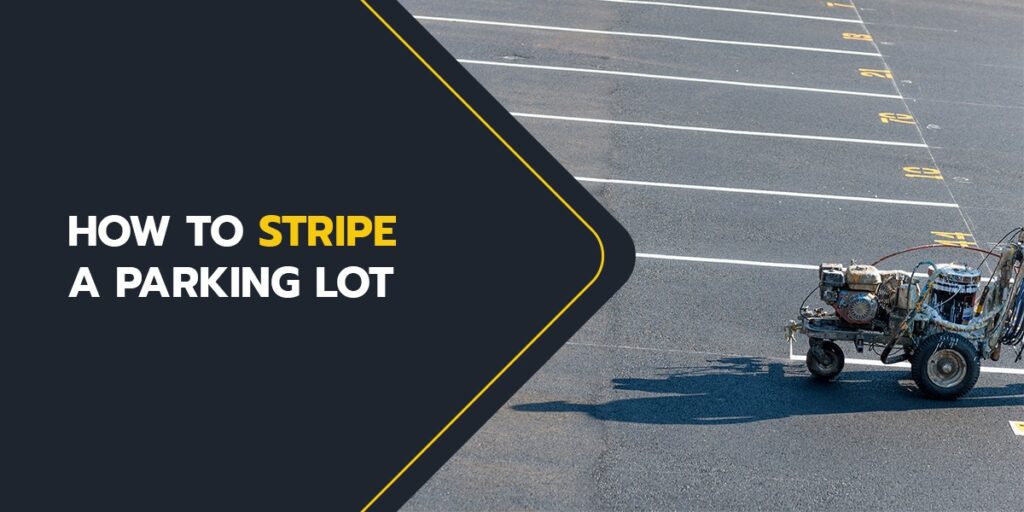 How to Stripe a Parking Lot
Your parking lot stripes looks their best when your lines are clear and thanks to a crisp, bright coat of paint. Whether you choose yellow or white, refreshing your parking lot lines will make your property pop and highlight the effort you put into your business.
Attention-grabbing aesthetics aside, discernible, straight lines are essential to any safety-compliant parking lot. Clearly defined, bright parking lot lines do more than send a positive message. They are crucial safety features, ensuring traffic flows swiftly and safely in, around and out of your parking lot.
When Should You Re-Stripe Your Parking Lot?
If you've noticed strange traffic patterns or your lines are difficult to see, it might be time to re-stripe your parking lot. We've broken down the parking lot striping process into a few steps.
Preparation
Fix and fill any blemishes in your asphalt for a smooth surface area before painting. We recommend using professional paving and asphalt repair services for the best results.
Next, close down your parking lot after hours with cones or other road markers. Parking areas are full of debris and rubble, but you'll need a smooth, clean surface to repaint your parking lines. Depending on the size of your lot, you can manually sweep it or use a power washing tool.
Choosing a Parking Lot Striping Layout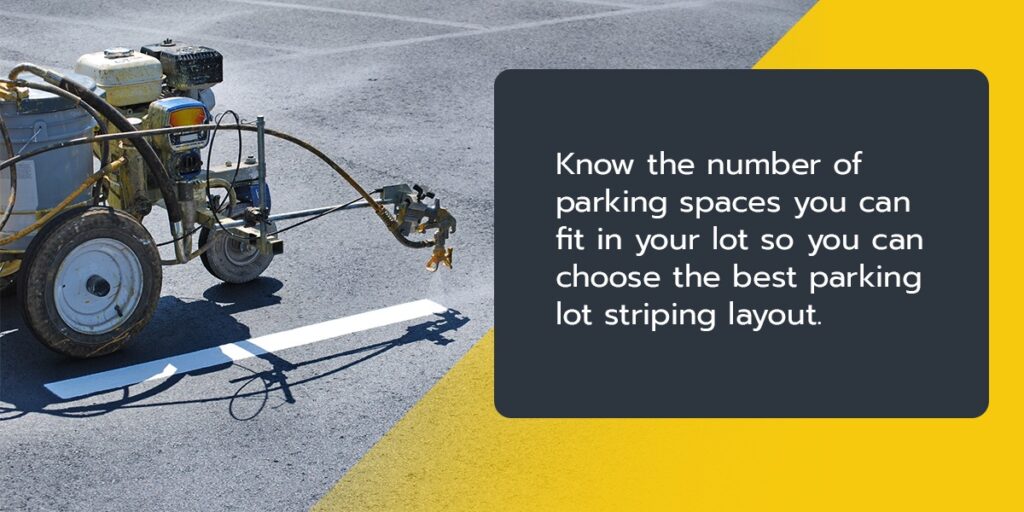 If you are re-striping your parking lot, you may not have to take new measurements. However, we recommend it as a precautionary step. Know the number of parking spaces you can fit in your lot so you can choose the best parking lot striping layout and account for how much paint you need to purchase.
If you're lining a new lot, a good rule of thumb for measuring parking spaces is to remember that a standard space is 18 feet long and 9 feet wide, with a 24-foot-wide space between parking rows. Accessible parking spaces must be at least 11 feet wide with an access aisle at least 5 feet wide.
Always ensure your parking lot details and measurements are compliant with the Americans with Disabilities Act (ADA). For every 25 parking spaces, there must be at least one accessible parking space. Consult your local and state compliance codes in addition to double-checking that your lot is ADA-compliant.
How to Paint Parking Lot Stripes
You can purchase paint specifically for lining parking lots. Choose a professional formula that is:
Quick-drying
Water-based
Reflective
Thermoplastic lasts longer than latex paint but is less cost-effective for striping your entire parking lot.
You'll need a parking lot striping machine to make clean, straight lines. These stripers come in different shapes and sizes, often as compact as a lawn mower. If you need to touch up a single line, you can choose a striper so small it holds a single can of aerosol paint. If you have a large lot, you can select a striper with a laser for precise, straight lines.
How much does parking lot striping cost? Whether you're paying for professional services or taking a do-it-yourself approach, the price will depend on factors like the lot's size and the paint and striper you choose.
Leading Line Striping Services With The Paving Lady
Hiring a professional ensures you get the best results when improving your property. If it's time to re-stripe your parking lot, The Paving Lady can help with leading line striping services. We bring our expertise and equipment to your lot and leave bright, straight lines behind. Call us today at 561-567-7182, or contact us online for a free quote!