A driveway, road or parking lot will experience wear and tear over time. However, sometimes, instead of spending money to replace the entire paved area, adding a new layer to fix problems, like cracks, offers a cost-effective solution. Learn how trusted contractors can add years of life to pavement with asphalt resurfacing.
1. Inspection
The first step in the asphalt resurfacing process is an inspection. A paving contractor has the expertise to provide a professional assessment of a driveway or parking lot. They identify potential issues with factors such as grading, drainage and damage. A paving specialist can provide recommendations that suit the asphalt's conditions.
A specialist may suggest a sealcoating service if the pavement only needs preventive maintenance. Other times, resurfacing may offer the right option if a new asphalt layer can correct the issues and make your pavement look better. When the base layer is unstable with significant signs of aging or damage, the pavement may require a full replacement.
2. Preparation
The preparation takes place several weeks before the resurfacing begins. Contractors will clear the space of any obstacles, including speed bumps, concrete parking bumpers and handicapped access ramps. Utility structures, like pipes and wiring, may need adjustments to avoid damage.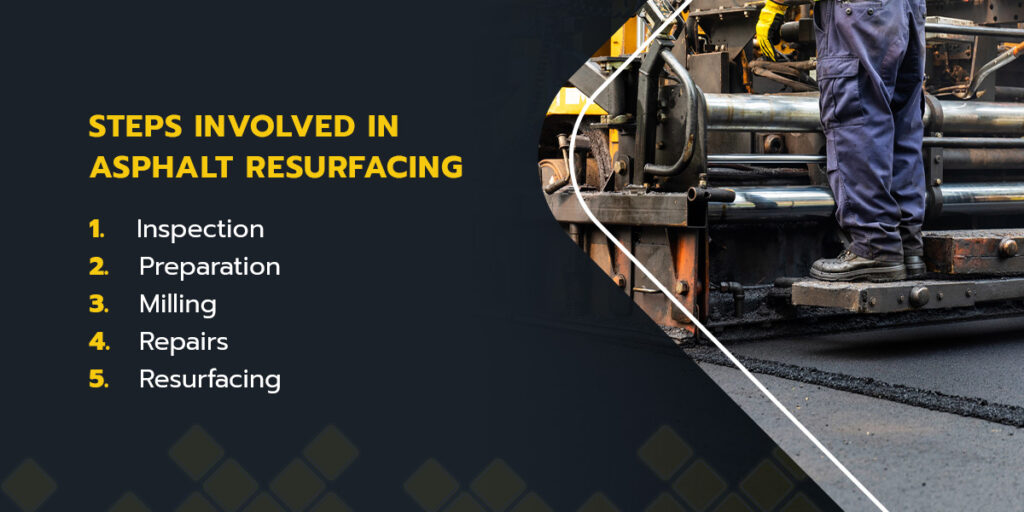 3. Milling
A few days before the resurfacing occurs, contractors remove the top layers of the old asphalt. This process makes space for a new layer and gives contractors access to all sublevels of the asphalt. When complete, any adjusted utilities will resume their proper alignment.
4. Repairs
The pavement below the top layer may require repairs. Contractors can seal cracks and fill potholes. Depending on the depth of damage, rougher areas may need additional milling. The end goal is a smooth, even surface.
5. Resurfacing
The resurfacing asphalt process starts with a first layer, called a tack coat. This sticky surface creates adhesion of the asphalt to the repaired surface. Contractors lay an asphalt layer using rolling and paving machines to ensure a smooth, durable surface.
Contact The Paving Lady for Asphalt Resurfacing at South Florida Properties
Have weather conditions, traffic volume or other external factors made your asphalt look worn? Repairs can prevent issues from worsening and improve the appearance of your asphalt.
When you want to fix asphalt driveways, roads, parking lots and other paved surfaces, you can rely on The Paving Lady to restore your asphalt to its top condition. We're a leading asphalt repair company in South Florida.
To get started, contact our experts today!