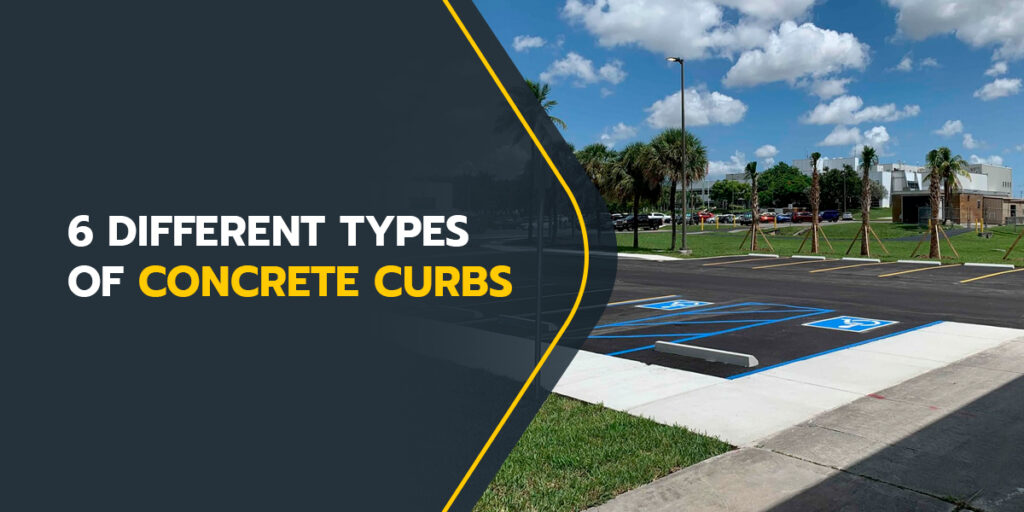 Types of Concrete Curbs
Curbs are found in residential neighborhoods, store parking lots, along roadways and many other spaces. Numerous types of concrete curbs exist, and if you're a property owner, knowing what type you have or want can help with installation and repairs.
Contact our team at The Paving Lady for professional determining the best curb for your application today.
The 6 Different Types of Concrete Curbs
1. Barrier Curbs
A barrier or straight curb is the type you typically see when you pull into a parking space. These curbs are there to create a "barricade" between the vehicle and something else, such as a sidewalk, building, landscaping or other cars. Barrier curbs are designed to prevent cars and trucks from entering areas with pedestrians.
2. Mower Curbs
You'll often find mower curbs around flower beds, gardens, ponds and other landscaping areas. These curbs are common in parks and neighborhoods or other spaces with frequent lawn maintenance.
Mower curbs are curved to allow lawnmowers to trim as close as possible without getting into the mulch or topsoil. Mower curbs are one of the more decorative types since property owners have more color and size options. –
3. Sloped Curbs
Sloped curbs are for decorative purposes on residential and commercial properties. If you're looking to showcase a design idea or express your creativity, sloped curbs are one of the best choices. They work well around driveways or specific types of landscaping. In some cases, sloped curbs can help redirect water to another area, such as soil.
4. Rolling Curbs
Rolling curbs — also called mountable curbs — are much like barrier curbs, only they have dips specifically for vehicles to drive over them. There are also usually openings for pedestrians to walk through, especially if they have a stroller or shopping cart or are on skates or bicycles.
Some examples of mountable curbs include speed bumps and the curbs outside driveways. In many cases, rolling curbs help prevent pooling water.
5. Integral Curbs
An integral or monolithic curb is attached or fused to the roadway. Vehicles can then pass without damage to the structure or foundation. This type of curb helps protect roads. If a street has heavy traffic and is frequented by large trucks, you'll likely notice integral curbs installed to preserve the roadway. These curbs can withstand water and protect against erosion from it.
6. Decorative Curbs
A decorative curb can serve a visual and practical purpose. These curbs draw focus and attention to a particular area. You will often see decorative curbs in the shape of either a rolling or mower curb. This type will work the best around flower beds.
Many property owners will paint different portions of the curb another color to create contrast.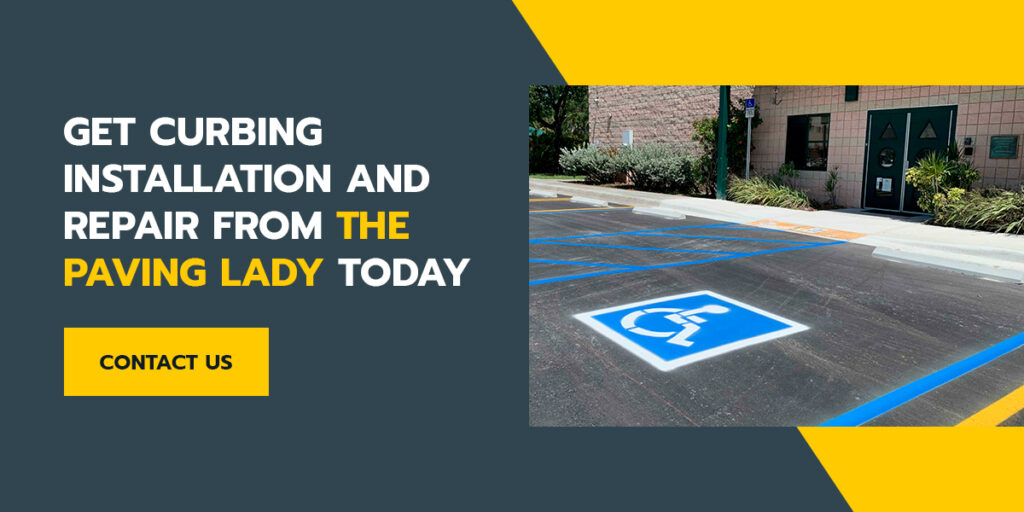 Get Curbing Installation and Repair From The Paving Lady Today
The Paving Lady has served South Florida since 1985. We can help you extend the life of your curbs and asphalt and protect your investments with our full-service team.
Reach out to us online today or call (561) 567-7182 for a free quote.