Have you ever pulled into a parking lot, squinting to make out where exactly you're supposed to park? Faded lines affect more than looks. Freshly painted stripes add order to parking lots and reduce the risk of accidents. So, how often should you actually stripe your parking lot? Let's dive in!
Why Refresh Your Parking Lot Striping?
Striping your parking lot is about more than just making your premises look good. Regular maintenance supports the asphalt's longevity and helps protect your property. Properly maintained lines maximize space and provide clear guidance to drivers for added safety. They also add to curb appeal and send a message that you care about the details.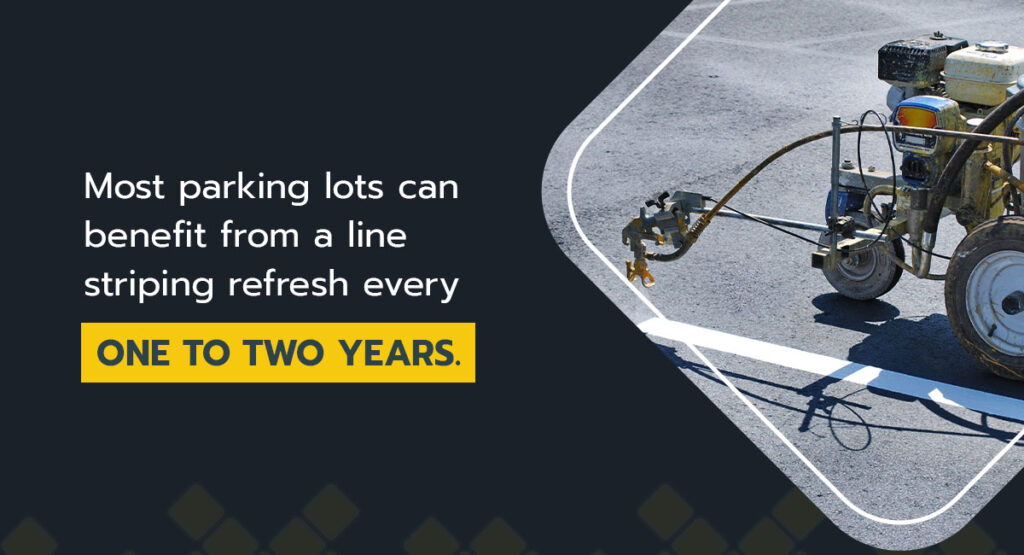 How Often Should You Repaint Parking Lot Lines?
Most parking lots can benefit from a line striping refresh every one to two years. A few factors can affect the longevity of parking lot lines:
Heavy traffic
Harsh weather conditions
Paint quality
Visual fading is the most reliable sign it's time for a parking lot re-stripe.
Faded Parking Lot Striping Costs More Than You Think
Parking lot lines are dynamic and need regular maintenance. Many property managers tend to delay repainting, but this task is more important than you might think.
Consider two parking lots — one freshly striped, clear and inviting, and another with faded lines. Which one gives a better first impression? Which one suggests the property is well-managed? Which one ensures safety and organization for drivers and pedestrians? The answer is obvious.
While faded parking lot lines might not seem like a significant issue on the surface, they can make or break a potential customer's first impression.
The True Cost of Faded Lines
Apart from looks, faded line striping poses a safety concern. A lack of clear lines can lead to accidents or disputes among drivers, which can translate into liability issues for property managers and owners. Let The Paving Lady help you avoid potential fines and penalties.
Why Choose The Paving Lady?
Over 35 years in the industry, we've seen the consequences of neglected parking lots firsthand. When you choose us, you're not just getting a service — you're investing in your property's future. You'll benefit from our:
Experience: Serving South Florida since 1985, we've got the skills and the know-how to get the job done right.
Value: We offer free quotes to give you a clear picture of costs upfront. Plus, you'll find competitive prices that can't be beaten.
Quality: Our premium service extends the life of asphalt and protects your investment.
Credentials: We've satisfied a lengthy list of clients, from homeowner associations to retail centers.
Make the Wise Choice
In the world of property management, details matter. The Paving Lady is here to keep your parking lot striping in top shape. With fresh paint, you can present a clear message of professionalism, care and attention to detail. Call us at 561-567-7182 to discuss how we can brighten up your lot.